"Il modo di dire addio" di Leonard Cohen, (2017, il Saggiatore) – 651 pagine.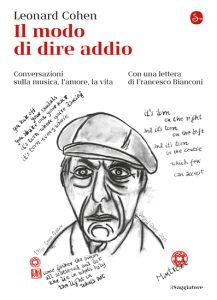 Dove si traccia il percorso umano di un poeta prestato alla musica o un cantautore prestato alla poesia. Ad ogni modo e da qualsiasi parte lo si voglia ascoltare, una delle voci più affascinanti del panorama musicale. Dalle non numerose interviste pubblicate nel testo emerge una personalità singolare, bizzarra in alcuni casi, potente senza alcun dubbio. Un uomo costantemente alla ricerca di qualcosa di diverso da ciò che è stato. In evoluzione. Dai periodi vagabondi alle fasi ascetiche passando per uno spiritualismo religioso permeato di inquietudine fino alle tourneé sold out.
Sarebbe riduttivo e in qualche modo pretenzioso elencare le canzoni che lo hanno spinto oltre il decadimento del tempo. Personalmente, però, non posso non citare "Suzanne", "Joan D'arc", "The gispy's wife", "Take this waltz", "Famous blue raincoat" e "A singer must die" (di cui invito l'ascolto delle splendide versioni di Jennifer Warnes nel delizioso album di qualche tempo fa in cui la cantante interpreta alcuni brani del poeta canadese). E poi "Hei, that's no way to say goodbye", "I'm your man" "Halleluja" (di cui non spendo parole altre per definire l'angelica notissima versione di Jeff Buckley). Ma, sopra tutte, va ricordata "Anthem" con quei versi di disarmante bellezza "There is a crack, a crack in everything/ That's how the light gets in…", perché non c'è bellezza nella perfezione.
Dischi consigliati:
"Songs of Leonard Cohen", 1967
"Songs from a Room", 1969
"Songs of Love and Hate", 1971
"Various Positions", 1984
"I'm Your Man", 1988
"The future", 1992
"Live in london", 2009